Time for another TBR Challenge! The theme for this month is "New-To-You Author."
Where There's Smoke – Panopolis 1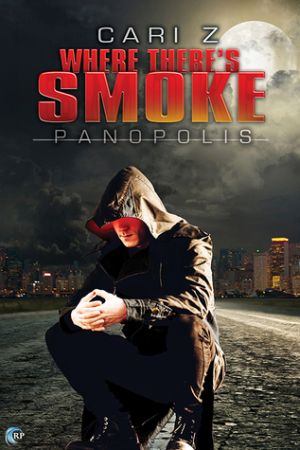 Panopolis is a rough place to be an average Joe. I came here looking for adventure and excitement, but nobody cares about one more normal guy in a city filled with super-powered heroes. The closest I've come to glory is working in a bank that villains often rob.
But then I maybe accidentally-on-purpose helped a villain escape the hero who was trying to save the day. Imagine my shock when, a week later, that villain asked me out for coffee. One date turned into more, and now I'm head over heels in love with Raul.
Falling in love with the guy dubbed the Mad Bombardier isn't without its downsides, though. I've had to deal with near-death encounters with other villains, awkwardly flirtatious heroes who won't take no for an answer, and a lover I'm not sure I can trust. It's getting to the point where I know I'll have to make a choice: side with the heroes, or stand fast by my villain.
Either way, I think my days as a normal guy are over.
My thoughts
An average Joe falling in love with a villain? In a city full of superheroes and villains? Sign me up! This was recommended to me last year by Elisabeth. Her recs have never steered me wrong – in fact, I've loved every book I've read under her command. 😉
Gotta be honest, though. Despite her recommendation and the intriguing blurb, once I picked it up I was a little…skeptical. I don't really know why, but at the very beginning, the writing threw me off a bit.
However, it didn't take more than a page to get me hooked, and I began to really enjoy the writing as well as the story.
His voice sounded like an echo of itself somehow, hollow and deep. (…)

I couldn't tear my eyes away from the sight of it, a precarious, unknown fate resting in this man's hand.
The first chapter was a lot of fun, and by the end of it I was captivated. I wanted to know more about Edward and the Mad Bombardier.
Their first date was lovely. I was a little frustrated because they fall in love and begin sleeping together off page. Like Elisabeth, I'd have liked to see their relationship develop in more detail. They are sweet together, though.
"Whatever makes you happy."

"You do." He took my hand and kissed the back of it, like something out of a smutty fairy tale. "You make me happy, Edward."

"I'm glad." Honesty and a sense of reciprocity compelled me to add, "You make me happy too."
*heart eyes*
The author did a really good job of making me care about Raul, even though he is a bomber and a thief. He's a Villain, and yet I wanted him to succeed. To be safe.
My only – admittedly minor – dislike: a certain character (won't spoil who) got too pushy for me at a certain point. Edward told him several times – in no uncertain terms – he wasn't interested, but the guy kept insisting. It was annoying and a little creepy, but not enough to diminish my enjoyment of the book.
The ending was interesting and romantic, if a little abrupt.
To sum it up: Where There's Smoke is interesting, unusual and a lot of fun. I can't wait to dive into the next book and discover what happens next.