I had a lot of fun last year, therefore here I go again – I'm taking Wendy's TBR Challenge 2017.
January's theme is "We Love Short Shorts!", so I decided to finally read The 13th Hex, the intro to Jordan L. Hawk's Hexworld series.
The 13th Hex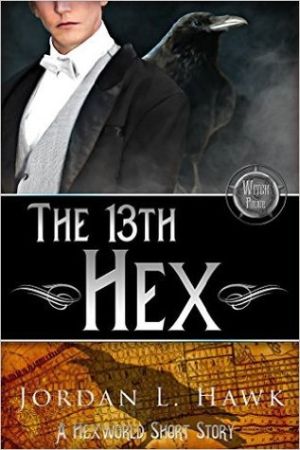 Blurb:
Romance. Magic.
Murder.
Dominic Kopecky dreamed of becoming a member of New York's Metropolitan Witch Police—a dream dashed when he failed the test for magical aptitude. Now he spends his days drawing the hexes the MWP relies on for their investigations.
But when a murder by patent hex brings crow familiar Rook to his desk, Dominic can't resist the chance to experience magic. And as the heat grows between Dominic and Rook, so does the danger. Because the case has been declared closed—and someone is willing to kill to keep it that way.
My Thoughts
This is a short story, about 50 pages long. And even though I liked it, I think the story and the characters suffered a bit of "not enough pages to develop". Both felt a little rushed. I would have liked more time to get to know them better, specially Rook.
That said, this is a good introduction to the series, good enough to make me want to read the next books (which I did right away, and I absolutely loved them).
The worldbuilding is fascinating and well done. I adore the concept of the familiars (a fresh twist on shifters) and the challenges they face, as well as the Metropolitan Witch Police and the rivalry between the MWP and the regular police.
Another fresh twist – this time on fated mates – is the bond between witches and familiars. It feels familiar and new at the same time, without feeling forced.
To sum it up: I wasn't blown away by The 13th Hex, but I absolutely recommend it as an introduction to the Hexworld series. The subsequent books are truly amazing (including the Christmas novella, which felt better developed than this one), and I'm already looking forward to the next.