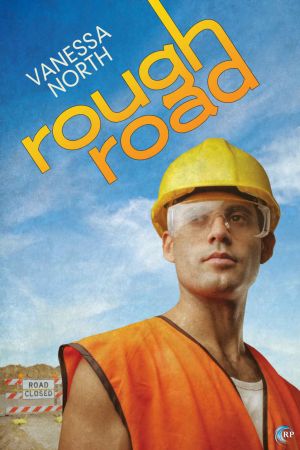 It's time for February's TBR Challenge, and the theme for this month is "Series Catch-Up" – a book from a series you are behind on. And I kind of screwed it up. Because of course. 😛
I discovered Vanessa North last year, during Queer Romance Month. Yes Fats, Yes Fems is a super short, gimme-more-PLEASE story, and I loved it with all my heart. I've been in love with Vanessa's books since. And she's awesome, too. 😀
I bought Rough Road on sale, not knowing it is the second book on the Lake Lovelace series, and I devoured it in a matter of hours. I didn't felt lost at any point, by the way. Once I finished, I read book I – Double Up. I liked it, but for me it doesn't come close to the awesomeness of Rough Road.
Rough Road
Blurb:
Eddie Russell is many things: A wealthy pillar of the community. An outrageous flirt. A doting best friend. A masochist with a kink for brawling with his bedmates. But he is definitely not a man who invites intimacy. His friends are close but few, his lovers rarer still.
When Eddie runs his Mercedes off the road on a hot July afternoon, Wish Carver comes to his aid—and leaves his number in Eddie's phone. Wish, a road crew worker half Eddie's age and sexy as sin, seems fascinated by Eddie's different sides. Mutual attraction and compatible kinks ignite the sheets, but it's their connection outside the bedroom that Eddie begins to crave.
When the two come down on opposite sides of a local issue, Eddie finds his growing feelings for Wish at odds with his business interests and his devotion to his best friend, local wakeboarding legend Ben Warren. Torn between old loyalties and his new love, Eddie is reluctant to make a choice. But he knows he can't make Wish wait too long to make up his mind.
My thoughts
First of all, I must say I love the brawling kink (so much so that I'm writing a character who enjoys this). It isn't something I see often on books, and it's very well done here. I've even seen a lot of people saying that even though they don't usually enjoy masochism and pain elements, they liked this book a lot. I was in pure heaven.
Eddie and Wish are delightful. They're both human, relatable, vulnerable in their own way. Eddie is a big queen, often over the top, and he's also sweet and endearing. He never felt like a caricature or a stereotype to me.
"I cannot believe you wear these [Speedos]." Wish gives my ass a once-over. "And have them in a variety of colors. You know your thighs are still striped. Everyone will be able to see them."

I can't help smirking. "That's the intent, isn't it? What's the point of being an exhibitionist if you don't, you know, exhibit?"

He shakes his head in this completely adorable he-wishes-he-were-exasperated-but-he-just-can't way. "Come here."

His hands on the sides of my face are a revelation. Their gentleness as they whisper over my cheekbones has me rolling my face into his palms like a kitten, eyes closed, chest heaving.
Wish is very mature and smart. He sees right through Eddie's BS, he knows what he wants, and he goes for it:
"I'm twenty-four years old; I'm not going to apologize for what gets me off," he says in a lilting impression of my voice. Okay, there's a point for him. He glances over to the bench. "Keith threw you down over there. You laughed, and it was like you'd started living in that moment. Watching you come alive like that made my dick so goddamned hard. Watching you take a caning— and he was really pushing you— that was intense."

He drops his gaze to his hands, then smiles again. "Why do I want to play with you? Because you turn me on. I want to hit you. I want to fuck you. I don't want to own you or master you or any of that Dom shit. I'm not looking for a waxed body to push around and call mine. I want to watch a grown man take a goddamned beating and thrive on it."
Oh yeah. As Eddie said:
Holy fuck. Wrap me in paper and stick a bow on me because I am sold.
The external conflict was also believable. At first, I rolled my eyes at Eddie's reasons for going against the roads bill, but a little later I totally understood him.
Which brings me to Eddie's relationship with Ben.
I so understand Eddie's compulsion to be available and help Ben. I've been there. From the outside it may seem ridiculous, but feeling responsible for others and being overwhelmed with the urge to take care of them, even when don't really need or want it…I get it. I was happy to see how it was resolved, because the resolution also rang true to my experience.
To sum it up: Rough Road is hot, kinky, sweet, human. Go read it.