Last month, I was going to write about A Seditious Affair for the TBR Challenge. Then shit life happened, weeks passed, and I gave up. "I'll catch up next month," I thought.
Yesterday I read A Gentleman's Position—the third and last book of the Society of Gentlemen series. And I must talk about it. I must.
Warning: here there be squee, littered with adverbs and adjectives and qualifiers. I have so many feels about these books, my feels have feels. And feels don't care about writing rules. I just want to share my joy.
A Fashionable Indulgence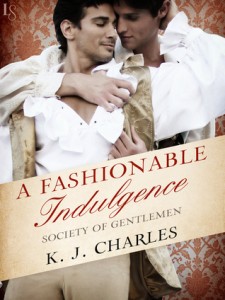 I've been hearing about K.J. Charles from everyone, for a long time. So much so, that even though I haven't read historical romance since 2012 or 2013, I put her books in my TBR.
Since everyone had recommend it to me at one time or another, and Elisabeth is a big fan, I decided to read A Fashionable Indulgence for March's TBR Challenge. Honestly, I was afraid the book wouldn't live up to the "hype", because they rarely do—at least for me.
I'm very happy to report my fear was unwarranted. A Fashionable Indulgence was good. I didn't really connect with Julius and Harry until the second half, and then BOOM. I was all in. And once Julius opened up… *starry eyes*
"I love you," Julius observed at last. "To a degree that frankly startles me."
I fell in love with all the characters, and with this world. I needed more.
I wasn't ready for what came next.
A Seditious Affair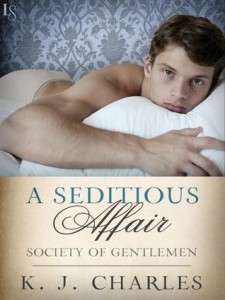 A Seditious Affair killed me in the first few pages. The very first scene between Silas and Dominic is balls to the wall amazing, and the book doesn't go down from there. It's intense, from the beginning to the last page.
The brute. The rough-spoken, grim-faced man, his thick fingers always chalky with dust, who swived him into oblivion with such savage care .
The world building is painstakingly vivid, never boring, always interesting. The relationship between Silas and Dominic is fraught with conflict and complications, and so fucking honest.
"We're tangled all to hell in each other's meshes, and I don't know anything about you."

"You know everything about me. You know how I want to fuck and what I want to read and what matters to me. You know all that even when I don't."
And:
"You're a damned fool." Dominic walked up to him, brushing a hand over his prickly hair. Silas looked away, shamefaced and awkward, and Dominic was almost sure he knew why.

Almost, and there was a wide, deep gap between that and certainty, but if he could not humiliate himself with Silas, where could he?
I died a thousand deaths with the Tory and the brute, and I'm glad. A Seditious Affair went straight to my "Favorites Books EVER Forever" list.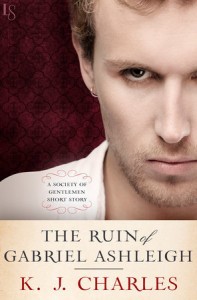 And then it was over.
The Ruin of Gabriel Ashleigh
I had to wait for A Gentleman's Position to be released, so I picked up The Ruin of Gabriel Ashleigh, which is the short story where everything began. I liked it a lot. It's short and hot and sweet and funny.
I also read A Confidential Problem, a free Society of Gentleman interlude featuring Silas and David. You need to subscribe to K.J. Charles's newsletter to get this short story, and you most definitely should.
A Gentleman's Position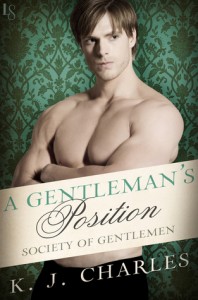 Yesterday, I finally got my hands on A Gentleman's Position. I'm happy that I began to read after I finished work, because once I started, I didn't stop until the end.
Elisabeth said on her review that "A Gentleman's Position is a small miracle." Yes.
Cyprian had always intrigued me. He was a fascinating character in the previous books, and I fell hopelessly in love with him in the first page of this book.
To the world, he was a valet, nothing more. A servant who wore Lord Richard's livery and obeyed his commands; even his offensively red hair was powdered away to white on his master's orders. But when he had Lord Richard's will to enforce, David Cyprian was silently and secretly one of the most powerful men in London. Unknown, unseen, and in charge. The pleasure of it tingled in his veins.
He was everything I'd imagined and more. A few pages later, there's a stolen touch between him and Richard.
They should have pulled away, one or both of them, but neither did, and every tick of the clock as they stood and stared at each other, hand to hand, was a hammer blow that nailed the unspoken thing irrevocably into place between them.

The unspoken thing, the forbidden hope, the one point that made David's service feel like servitude because he could not even ask. But Lord Richard still wasn't moving, his deep blue eyes locked on David's and wide with shock, and now they knew. Now they both knew, and there was no pretending otherwise.
This is still the prologue, mind you. And I was lost. I just had to keep reading. There was no pretending otherwise.
Unlike other readers, I didn't hate Richard. Not in the previous books and certainly not here. Yes, he was overbearing and too hard sometimes, but I understood his reasons. Even when he was wrong, which is a testament to Charles's skill.
And boy, was he wrong in this book. A lot. He had the best intentions, but he just didn't get it. I'd cringe as the words left his mouth, knowing he was digging himself a hole. But I loved him anyway. Because misguided and obtuse as he was at times, he was also protective to a fault, loyal, selfless…and willing to admit he was wrong, and to try his best to do better in the future. Which he did.
Richard reminded me a bit of Darcy from Pride and Prejudice. So in control, powerful, full of responsibilities and duty. However, Richard's fall was even more spectacular, therefore oh so satisfying.
Characters from previous books all made an appearance, and it was such a joy to see them interact. I specially loved Silas here, his friendship with David and the budding mutual respect between him and Richard.
But above all, David is the star of this book. His plan to save the Ricardians was sheer brilliance, both in ideation and execution. The final confrontation had me literally at the edge of my seat, gasping for breath, laughing, dreading, cheering on.
There are a lot of funny moments, and the sexy times? Smoldering. Breath-taking. Lovely in a need-to-fan-myself way.
Charles threw in some nice twists and misdirection for good measure, and what can I say? A Gentleman's Position is perfect. That's all.
It's my favorite of this series, and has also earned its place on my "Favorites Books EVER Forever" list.
All Good things…
I saw it coming, but I was sad anyway to see A Gentleman's Position is the end of the series. I was really hoping to read Jon and Will's story, and maybe get to know Absalom better. Alas.
At least, K.J. Charles promised a Christmas coda, and I'm already counting the days. Is it December yet?
Do yourself a favor and get this series—yes, the whole series—if you haven't already. Read them in order; your enjoyment will be greater because you'll get to get to know the characters and watch their relationships evolve and the gentlemen grow.
You need these books in your life, I promise. I know I did.
Is it December yet?