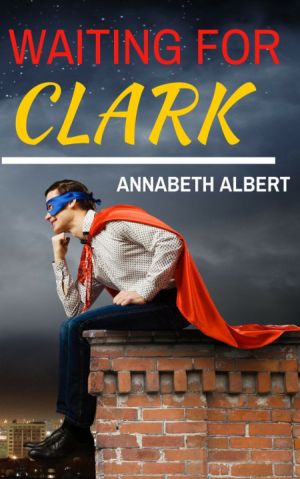 I've been thinking about entering Wendy's TBR challenge for some time. Lynn (my awesome critique partner) finally convinced me to give it a go this year.
The theme for this month is "We Love Short Shorts", and my pick is a nerdy novella I read a few days ago.
Waiting for Clark
Blurb:
When Bryce Weyland agrees to go to a comic convention dressed as a superhero, the last person he expects to see is his one-time best friend (and hopeless crush), Clark Kenmore. But Clark is impossible not to notice—he's wearing spandex tights, a rainbow cape, and the same disarming smile that haunts Bryce's dreams.
Five years ago, they shared an ill-advised kiss that torpedoed their friendship. But now Clark has returned to Portland, and he wants nothing more than to return to the easy friendship that defined their college years. But the glowering Bryce makes it clear Clark's mission is going to require a super-human effort—and more than a little luck.
My thoughts
This was my first book by Annabeth Albert. The novella is written in first person, both from Bryce and Clark's POV. I have a strong preference for third person, but a good author can take me into the story and make me forget about technical details pretty fast.
Waiting for Clark took a little time to get me there, but when it did, it was so good. I could feel their longing for the friendship they'd lost, the need to be close again as they has once been.
[Minor spoilers ahead]
Once the guys got together, it was so.fucking.sweet. They cuddle under a blanket to watch a TV show, and…
I still slid over.

Still let my legs brush against him, still relaxed into the cushions, my body settling comfortably against his like it had known the way for years and had just been waiting for me to catch up. And when my arm felt weirdly trapped between us, it was the most natural thing in the world to stretch it along the back of the couch.

Clark exhaled like he'd just completed a really tricky game sequence. His full-body relief had me sighing too, had my hand dropping to his shoulder, pulling him against me. My heart beat like I'd just pounded out supersets at the gym, my whole body feeling alive and tingling simply by having him near.

(…)

Clark made sleepy little noises and nestled against me. Well, as much "nestling" as a six-foot-three guy with bigger shoulders than mine could accomplish. A warm and protective cape unfurled inside me, wrapped both of us in a cocoon where all the issues between us dropped away and there was only him and me holding him while he slept.

It was possibly the most perfect moment I'd had in the last five years, and I'd had some major high points, but this quiet embrace was everything.
*happy sigh*
The sex was hot and sweet as hell, too. There's an emotional intensity here that some may say it's sappy or cheesy, but I just love it.
I must say, the author likes to use a lot of similes and metaphors. And I mean a LOT. But somehow, it works for me. So much so, that I immediately picked up Status Update (her latest) and it ended up being my first 4-stars rating of 2016.
Waiting for Clark wasn't as amazing as Status Update, but I liked it a lot, and it's a good sample of the author's voice and style.
And it's free, so go pick it up. 🙂